ABOUT BBV Law
Buzzell, Blanda and Visconti, LLP is a full service law firm located at 535 Broadhollow Rd. (Route 110), Suite B-4 in Melville, New York. Our objective is to assist our clients in achieving success by providing efficient and effective legal representation. Our areas of concentration include zoning and land use, real estate, litigation and appeals, municipal law and environmental law.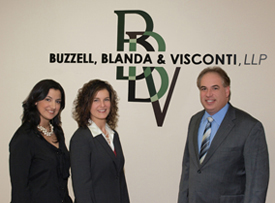 We recognize each client is unique and has individual goals and resources. We realize no two cases are identical. Experience has taught us there is no single approach to any legal matter. Whether it is a zoning application, a contract or lease, or the structure of a complaint or a defense, the approach must be tailored to the particular matter at hand and the particular client involved.
The firm remains committed to protecting and advancing the interests of each client. We strive to be the best in our field and to provide personal attention and quality representation that is both practical and cost-effective. We commit our firm's resources to finding creative solutions to individual needs. Further, we are committed to being problem solvers with a results-oriented approach.
Whether guiding clients through the land use application process, negotiating a complex contract or lease, closing a complicated purchase or sale or litigating in court, Buzzell, Blanda and Visconti, LLP strives to provide skilled legal representation which combines knowledge and experience with a sensitivity to the client's needs and interests.
The firm also maintains a strong commitment to our local communities. Our Attorneys invest time, energy and enthusiasm to service charitable and non-profit organizations.
We strive to provide our clients and our communities with quality service which achieves success.
Thank you for your interest in Buzzell, Blanda and Visconti, LLP. To learn more about our attorneys and the legal services we provide, please visit the Attorneys and Practice Areas sections of this website.